Records Fall in Boston
February 26, 2018
With new personal records set, 1-2 punch finishes and WORLD RECORDS falling, it was a thrilling Sunday in Boston for the HOKA New Jersey*New York Track Club!
Ce'Aira Brown and Cecilia Barowski kicked off the action for the team in the Women's 800m. Finishing 1-2, Brown picked up a new indoor personal record of 2:00.86, which currently ranks her Top 10 in the World, and Barowski clocked a season's best of 2:01.61.
Club vets, Nicole Tully and Heather Wilson, toed the line for the Women's Mile. Tully kicked down the final stretch to win the mile and record a new indoor personal record of 4:30.98. Wilson ran 4:43.53.
The pace was hot for the Men's Mile with 14 athletes breaking 4:00. Ford Palmer and Rob Napolitano both had strong performances running 3:58.84 and 3:59.49 respectively.
The highlight of the meet was undoubtedly the Men's 4 x 800m. A late insert to the program, the race was run on a Sunday night, long after most of the college teams had finished their cool downs and began their journey's home. In front of a crowd of just a few hundred, the men of the HOKA New Jersey*New York Track Club would pair up against members of the Atlanta Track Club and the District Track Club to chase after the 2014 world record mark of 7:13.11. But this story is best told by the new WORLD RECORD holders, Joe McAsey, Kyle Merber, Chris Giesting, and Jesse Garn!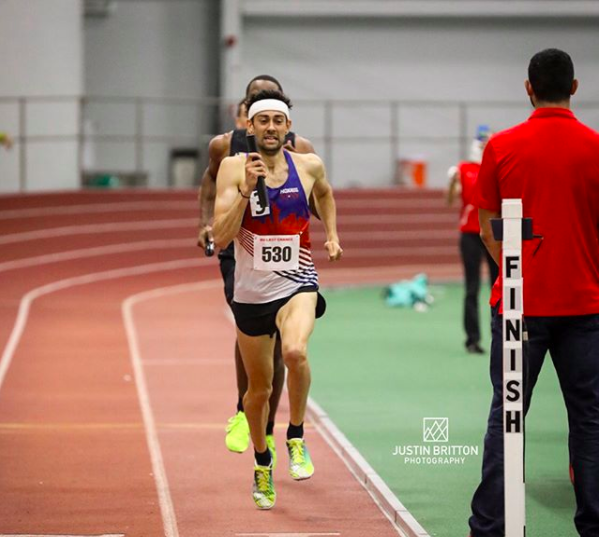 Joe McAsey: I was feeling the disappointment of Albuquerque for a few days last week, but my confidence was restored in Wednesday's workout. We crushed a 400 at the end of a good day and after that I knew we were fit and would have a shot at the record and the win.
Kyle Merber: I was admittedly not super on board with the relay until mid-week. I was frustrated about my performance at Nationals and just wanted to get back into training. Then I ran a 49 second quarter on the backend of a few miles of work and I finally started believing in my fitness. Gags always knows best.
Chris Giesting: Coming off the race at USAs, Gags was telling me all week to just run and have fun. That's what I tried to focus on leading up to this race. Being on a relay with teammates made it easy to get into the mindset.
Jesse Garn: I was extremely nervous going into this race, way more so than any of my individual races. Knowing that I would anchor comes with some pressure to not screw it up. On paper I was aware we'd have a shot, but it takes a special day for every leg to step up and run their best.
Joe McAsey: My main goal leading us off was to get the baton to Kyle in the lead. But we got out a little slow in the first 400 meters and though I closed well and accomplished that goal, I knew we were a bit off record pace.
Chris Giesting: When Joe's leg went out in 28, Jesse and I looked at each other and said 'It's over,' but Joe did a fantastic job of staying calm. He waited, didn't panic and made a STRONG move to take the lead on the last lap.
Kyle Merber: I knew as Joe was closing that I was going to be in charging of pacing duties on the 2nd leg and in the 800 I only know one gear—SPRINT!
Chris Giesting: I swear I've never seen his legs move so fast in my life. He was just getting after it. It got me pumped watching him lead wire to wire.
Joe McAsey: I caught my breath and looked up to see Kyle FLYING down the backstretch. He was determined to get us on pace and string the race out. When he handed off up front I felt good about our chances and then I felt even better watching Chris run the smoothest 50.xx ever run.
Jesse Garn: Chris has the most raw speed on our team and he got out like a rocket. When he got passed by District he finally settled in and that's when I finally believed we could break the record.
Chris Giesting: My weakest point can be just after 500m so it actually played out well that I got to sit for the rest of the race. Coming in to handoff I really wanted to come up on his shoulder and give the baton to Jesse right with Centrowitz and let him dictate where and when he would make his move.
Kyle Merber: Not going to lie, it's kind of a nice feeling not anchoring and just getting to watch. Especially when you have as much confidence in Jesse as I did.
Jesse Garn: I got the baton in 2nd place and tucked in for the first lap feeling remarkably relaxed. When I heard the split then it all made sense. I heard Coach Nohilly yell at me to go around him so we wouldn't fall short of the record.
Joe McAsey: Having all three clubs still in it down to the wire is what made it for me. But I knew how much Jesse wanted this record.
Chris Giesting: Watching him make his move with 500 meters to go I knew he must've been confident. All I could do then was yell at him to keep pushing and pushing so we could get as far under as possible.
Jesse Garn: I felt the rush and excitement at the bell, but rounding the final turn I kicked into high gear and watched the clock turn from 7:08...7:09…7:10—I yelled coming across because I knew we actually did it!
Kyle Merber: I was on the track yelling and when he came through with his hands out I opened up and he just jumped right into my arms.
Chris Giesting: Seeing him cross the line in first evoked some kind of inner monster in me, I went full rage-mode and Joe and I tackled the other two guys just screaming at the top of our lungs.
Joe McAsey: Being a part of this WR team means so much because we are continuing the club's middle-distance tradition. Gags has been talking about this for a while and it's always fun to perform with your brothers out there
Chris Giesting: We have always prided ourselves on our club's depth and on being a true team in every sense of the word. We weren't just running for ourselves out there, but each other. We did this for Gags and the whole NJNY family. It was about pride.
Jesse Garn: We were celebrating as teammates and as a family. It means so much because we all performed individually and by doing that contributed our small part to something bigger. That's what it's like to run for Gags and this team.
Kyle Merber: It is one thing to add up some personal bests and say, 'We can do this.' But to get a group to be firing on all cylinders in the same day, that's called synergy. And that's what this team is all about.
Official Splits:
1. HOKA New Jersey*New York TC - 7:11.30 WR AR - Joe McAsey (1:49.03), Kyle Merber (1:47.11), Chris Giesting (1:47.43), Jesse Garn (1:47.33)
2. Atlanta TC - 7:11.84 - Brandon Hazouri (1:49.84), Patrick Peterson (1:48.73), Edward Kemboi (1:45.55), Brandon Lasater (1:47.72)
3. District Track Club – 7:12.25 - Blair Henderson (1:49.16), Stymar Livingston (1:47.19), Edose Ibadin (1:46.92), Matthew Centrowitz (1:48.98)